—
Additional Resources for Organizational Race Work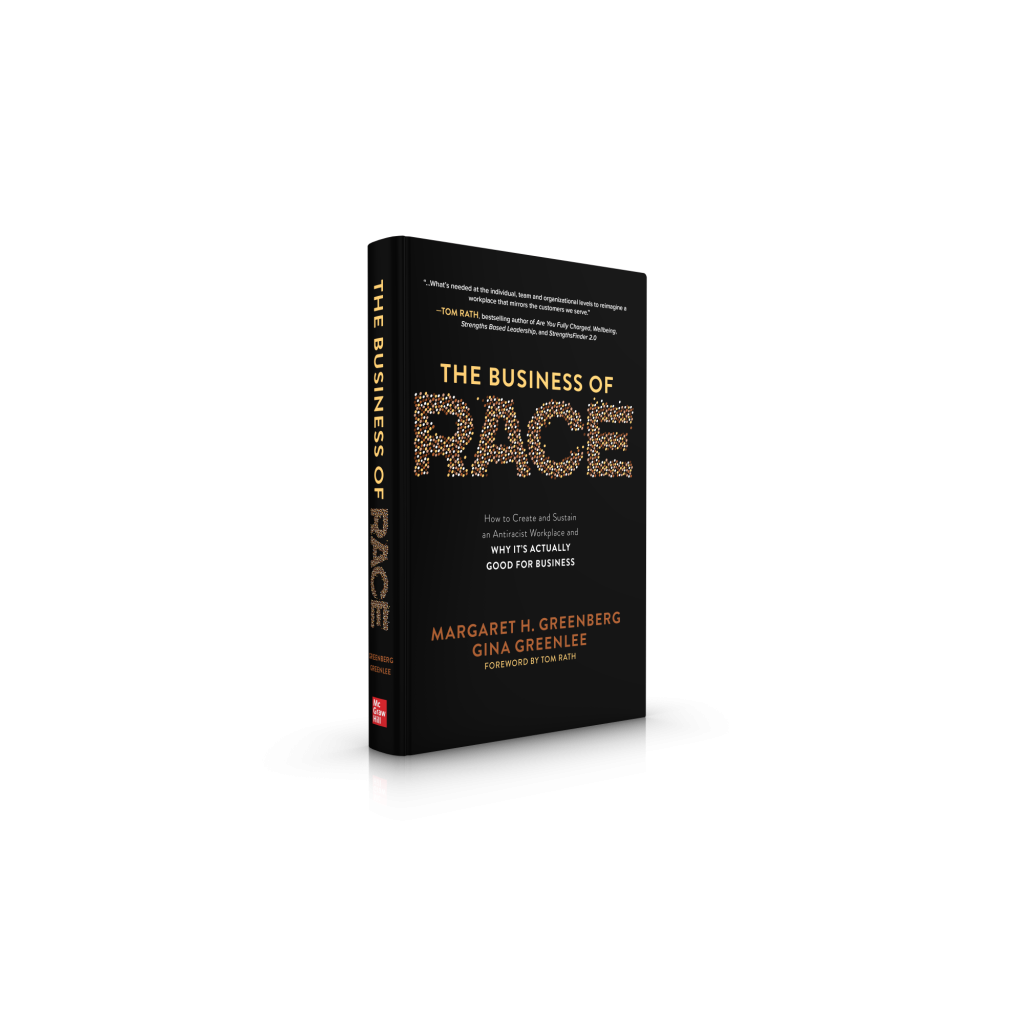 There are more than 40 additional resources in The Business of Race. Most of them are free:
Chapter 1
Book: Blueprint for a Revolution: How to Use Rice Pudding, Lego Men, and Other Nonviolent Techniques to Galvanize Communities, Overthrow Dictators or Simply Change the World, by Srdja Popovic.
Book/Play: Twilight: Los Angeles, 1992, by actor and playwright Anna Deavere Smith.
Chapter 4
Book: The Big Sort: Why the Clustering of Like-Minded America Is Tearing Us Apart, by Bill Bishop.
Website: National Museum of African American History and Culture at The Smithsonian
Website: Historical Foundations of Race, National Museum of African American History and Culture at the Smithsonian.

Book: The Construction of Whiteness: An Interdisciplinary Analysis of Race Formation and the Meaning of a White Identity, by David R. Roediger.
Website: The Equal Justice Initiative
Book: The Warmth of Other Suns: The Epic Story of America's Great Migration, by Isabel Wilkerson.
Website: Jim Crow Museum of Racist Memorabilia
Video: PBS's Race: The Power of an Illusion
Video: "A Class Divided," Frontline
Online course: Race and Cultural Diversity in American Life and
History, University of Illinois at Urbana-Champaign, now offered for free by the giant online curator Coursera.
Online course: Global Diversity and Inclusion: Beyond Microsoft

Chapter 5
Book: We Can't Talk About That at Work! How to Talk About Race, Religion, Politics, and Other Polarizing Topics, by Mary-Frances Winters.
Website: NPR's The Race Card Project
Assessment: Antiracist Style Indicator (ASI)
Website: US Census Questions About Race and Ethnicity
Website: VIA Character Strengths
Book: How the Irish Became White, by Noel Ignatiev.
Chapter 6
Book: Awakening Compassion at Work: The Quiet Power That Elevates
People and Organizations, by Monica Worline and Jane E. Dutton.
Book: The Empathy Effect: Seven Neuroscience-Based Keys for Transforming the Way We Live, Love, Work, and Connect Across Differences, by Helen Riess and Liz Neporent
Book: Mindset: Changing the Way You Think to Fulfill Your Potential,
updated edition, by Carol Dweck.
Book: The Agile Learner: Where Growth Mindset, Habits of Mind and
Practice Unite, by James Anderson
Article: "Fixed vs Growth: Two Ends of a Mindset Continuum," by James Anderson
Website: www.jamesanderson.com.au.

Book: The Net and the Butterfly: The Art and Practice of Breakthrough
Thinking, by Olivia Fox Cabane and Judah Pollack.
Book: Six Thinking Hats, by Edward de Bono.
Chapter 7
Film: Wachowski, Lana, and Lilly Wachowski. 1999. The Matrix. United States: Warner Bros.
Book: The Fearless Organization: Creating Psychological Safety in the
Workplace for Learning, Innovation, and Growth, by Amy Edmonson.
Chapter 8
Book: Thin Book of SOAR: Creating Strategy That Inspires Innovation
and Engagement, by Jacqueline M. Stavros and Gina Hinrichs.
Book: Conversations Worth Having: Using Appreciative Inquiry to Fuel
Productive and Meaningful Engagement, by Jacqueline M. Stavros
and Cheri Torres.
Organizational Self-Assessment: Annie E. Casey Foundation's "Race Matters"
Chapter 9
Book: Moneyball: The Art of Winning an Unfair Game, by Michael Lewis.

Professional Groups: Broaden your network to find racially diverse talent through these business associations.
Society of Hispanic Professional Engineers (SHPE)
National Asian Pacific American Bar Association (NAPABA)
National Association of Black Accountants (NABA)
National Society for Black Engineers (NSBE)
Society of Black Architects (SOBA) (UK)

National Association of Black Journalists (NABJ)
Wall Street Friends (Network of Black Finance Professionals)

Valence. Online centralized network of 10,000 Black professionals concentrated in the tech industry
OneTen. A coalition of leading executives who are coming together to upskill, hire, and advance one million Black individuals in the United States over the next 10 years.
Bridge Partners LLC. BIPOC-owned retained executive search firm that engages an inclusive search process from start to finish that purposefully brings diverse leaders to the table.
The Divine Nine and the National Pan-Hellenic Council (NPHC)
Historically Black Colleges and Universities. There are 107 colleges in the United States that are identified by the US Department of Education as Historically Black Colleges and Universities (HBCUs). Website includes alphabetical listing by state.

Hispanic-Serving Institutions (HSIs). Visit the Hispanic Association of Colleges and Universities (HACU).
Tribal Colleges and Universities (TCUs). Find more information about each college by clicking the name in the list below the map on the website. Tribal College, Journal of American Indian Higher Education.
American Indian Higher Education Consortium (AIHEC) is founded by six tribal colleges. In 1973, the first six American Indian tribally controlled colleges established the American Indian Higher Education Consortium (AIHEC) to provide a support network as they worked to influence federal policies on American Indian higher education. Today, AIHEC has grown to 37 Tribal Colleges and Universities (TCUs) in the United States. Each of these institutions was created and chartered by its own tribal government or the federal government for a specific purpose: to provide higher education opportunities to American Indians through programs that are locally and culturally based, holistic, and supportive.

The Asian American and Native American Pacific Islander-Serving Institutions (AANAPISIs). The AANAPISI program, one of eight federally designated Minority Serving Institution (MSI) programs, was established by Congress in 2007 as part of the College Cost Reduction and Access Act. It was expanded in 2008 under the Higher Education Opportunity Act.
Book: I'm Still Here: Black Dignity in a World Made for Whiteness, by Austin Channing Brown.
Chapter 13
Assessment: Intercultural Competence Using the Intercultural
Development Inventory (IDI).
Chapter 14
Tools: Center for Story-based Strategy (Creators of #the4thBox),

Website: Solve Next The company that created "Think Wrong."
Book: Think Wrong: How to Conquer the Status Quo and Do Work that Matters, by John Bielenberg, Mike Burn, Greg Galle, Elizabeth Evitts Dickinson