—
What is Measured Gets Moved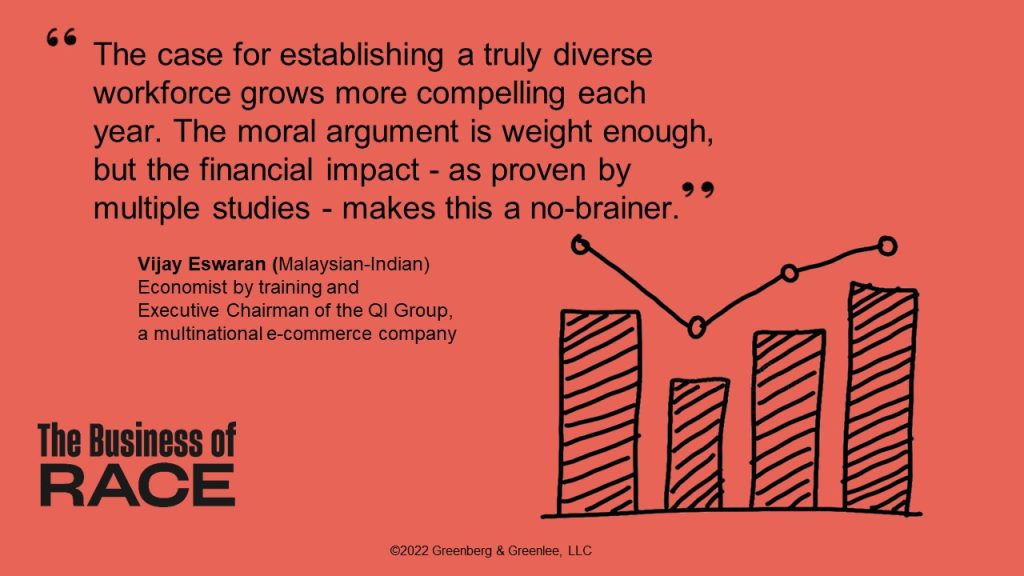 The Business Case:
Advancing Workplace Racial Equity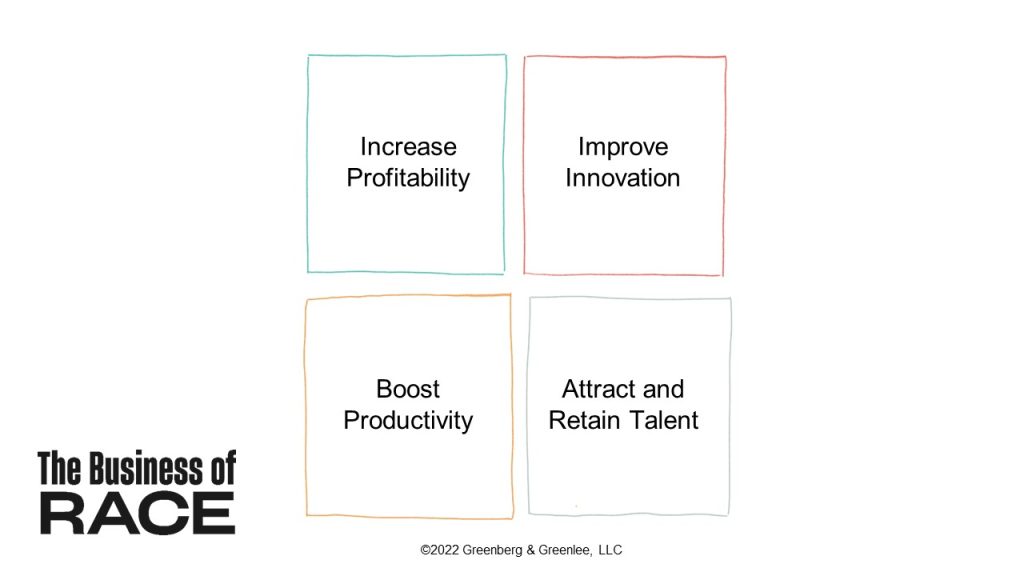 Why is racial diversity good for business as our subtitle claims? Decades of research in diversity in general such as gender, sexual orientation, religion, and thinking styles, has found that organizations with more diversity, outperform less diverse organizations on four key measures: profit, innovation, productivity, and attracting and retaining talent. However, when we were conducting research for The Business of Race it was difficult at first to find data specific to racial diversity, which is our lane.
So, we kept digging. And we found data from consulting giants such as McKinsey, Boston Consulting Group (BCG), Citigroup, Deloitte and others that showed that racial diversity in particular does increase these four measures:
Profitability
Innovation
Productivity
Talent
We do not cite all the stats here because we'd run out of space. Find all the original research in the reference section of The Business of Race. If you are trying to build a business case in your organization for racial diversity, you'll have access to specific studies to support it.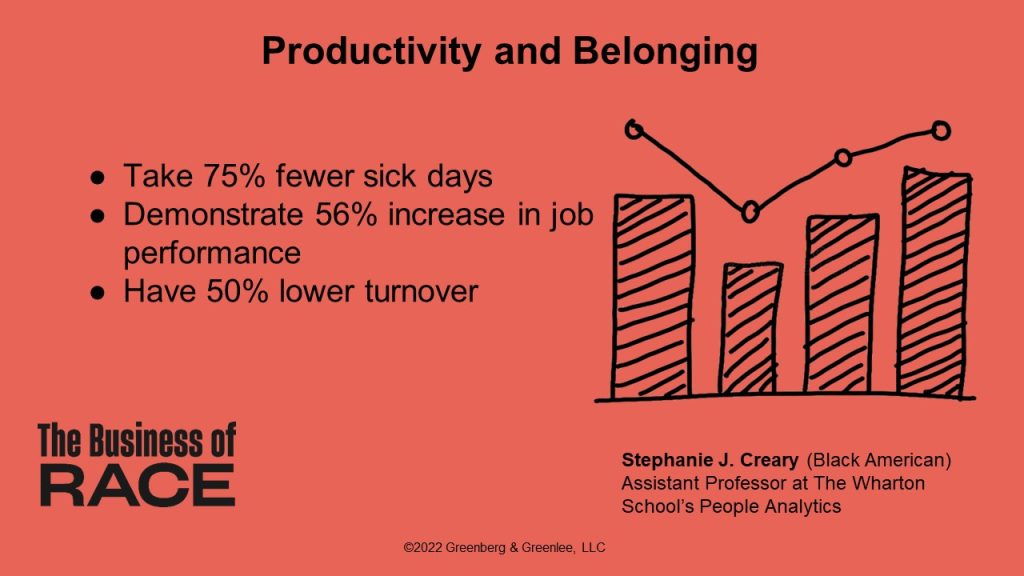 Let's look at productivity in a bit more detail. One piece of research comes from professor Dr. Stephanie J. Creary at the University of Pennsylvania. She and her team of researchers at the Wharton's People Analytics Lab found that employees who feel a greater sense of belonging to their organizations, take 75 percent fewer sick days than employees who feel excluded.
The studies also found that employees demonstrate 56 percent increase in their job performance when they feel like they belong. And have a 50 percent lower rate of turnover (again, another productivity, profitability measure), than employees who feel excluded.
If you lead or manage others in an organization, you already know from experience that your team's productivity is linked to the goals that you set, and the tools, training and resources you provide. Now you have another lever to boost productivity: creating an environment where all of your employees feel like they belong and can contribute.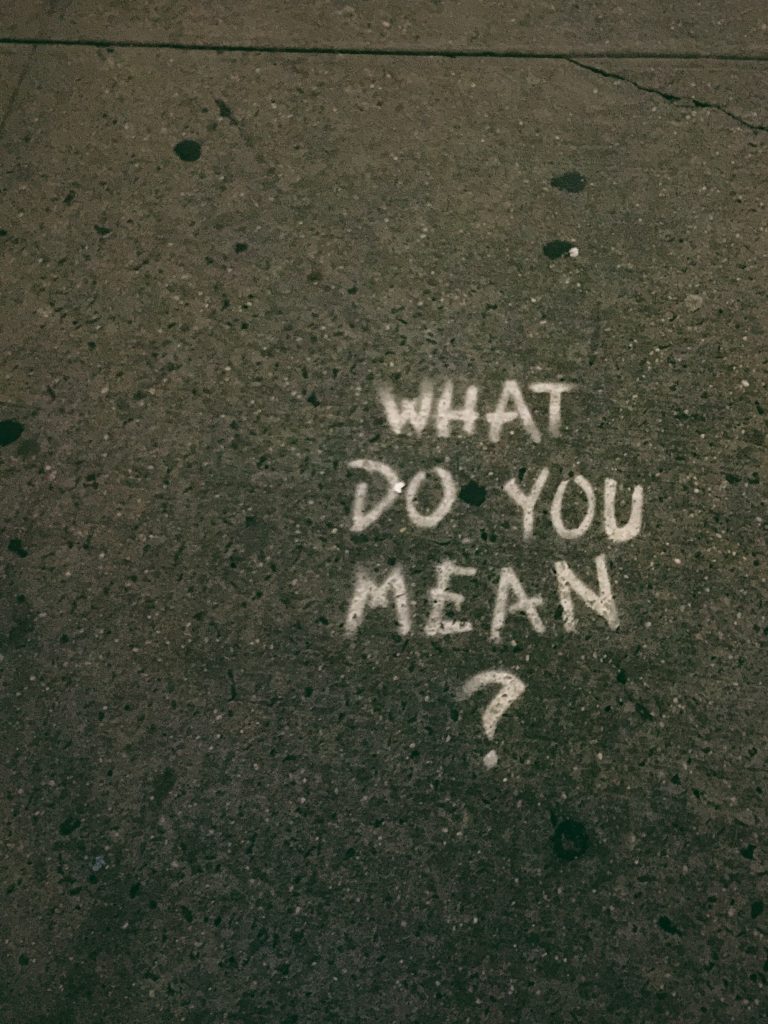 So, we've been talking about this business case for racial equity. But what does the term "racial equity" mean?
The term, "equity" is a relative newcomer to the Diversity & Inclusion professional practice. Chapter 3 of The Business of Race is called, "Who Snuck the 'E' Between the 'D' and the 'I'?" Even DEI professionals don't all agree on what "E" means. The term is still evolving. This is how we define "E":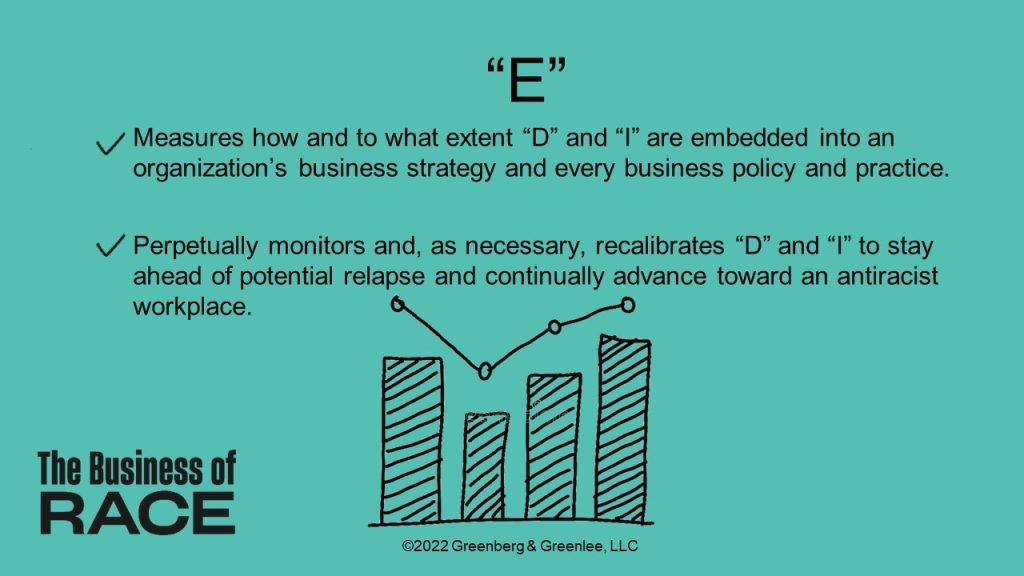 When we say, "embedded into every business policy and practice," we're not only talking about recruiting and hiring. We also mean, promotion, philanthropy, procurement, advertising, marketing – all of your business processes and practices.
Many organizations often think of racial equity as simply hiring a few more people of color or one person to head up DEI. It's so much more than that. In The Business of Race, we tell a multi-decade story of the Coca-Cola company, and how "E" has evolved in that organization over the past 30 years.
We'd like to wrap up the business case with the quote below. "Math has no opinion. But in this area [diversity], we want credit for trying." Mellody Hobson continues: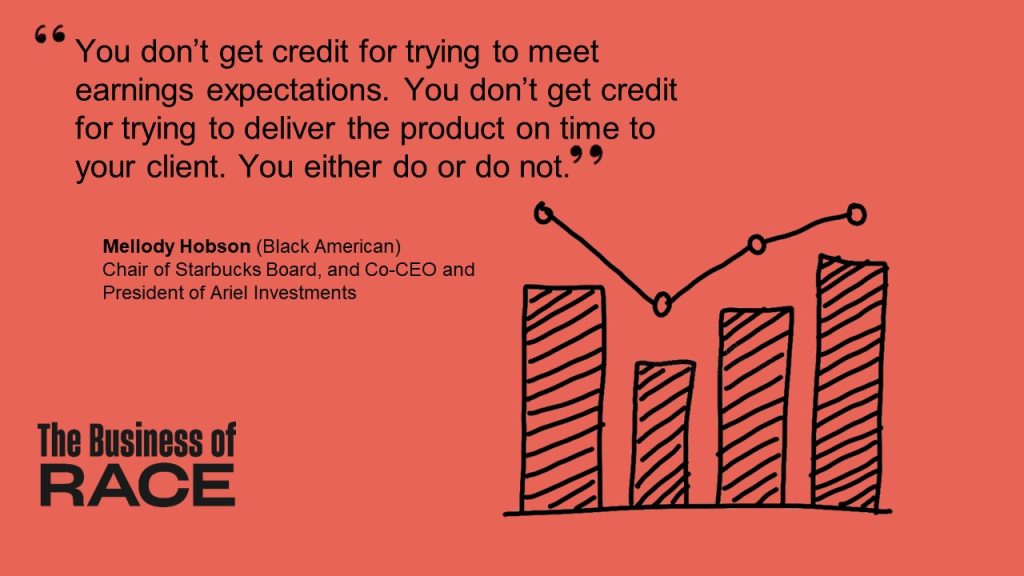 And the same needs to apply to creating an anti-racist workplace. That is why we believe we should treat advancing workplace racial equity just like any other strategic business imperative.
Concrete Actions
Some innovative companies have begun to tie executive compensation to achieving racial diversity goals. In the past, many organizations measured diversity only – in the general sense. And they would lump together all their data on gender, LGBTQ, disabilities and racial and ethnic diversity. Today, companies on the leading edge are unbundling that data so they can obtain a clearer picture of racial diversity.
For example, a company's diversity metrics might show a racially diverse workforce of 67 percent. However, through unbundling that number, a more nuanced and accurate picture emerges: 50 percent of those racially diverse employees are mostly entry level or front line supervisors. Fifteen percent are mid-level in the organization and only 2 percent are represented in the C-suite. Awareness of these metrics helps a company surface opportunities to advance their efforts.
Reflection Questions
What do you find most compelling about our business case?
How can you create or further the development of your own business case?