—
Embedding Racial Equity into Your Business Strategy FAQs
1. Is this series for Black, Brown, or White People?
The webinar series, The Business of Race: Embedding Racial Equity Into Your Business Strategy is for professionals of all racial identities and ethnicities. Based upon the book, The Business of Race, the workshop experience is designed for:
Leadership teams and boards of both for-profit and nonprofit organizations.
Learning & Development, Talent Development, Organizational Development, and Diversity, Equity, and Inclusion professionals looking to advance racial equity in their organizations by engaging their leadership and other key stakeholders.
Members of internal DEI committees.
Coaches, consultants, and other individual contributors looking to explore their own racial identity and help their clients do the same.
Community organizers, governments, and academics seeking to expand their knowledge of race and racism through a refreshingly new lens.
2. How is the experience delivered?
The program is co-led by Margaret H. Greenberg and Gina Greenlee, organizational development professionals and authors of The Business of Race: How to Create and Sustain an Antiracist Workplace AND Why It's Actually Good for Business (McGraw-Hill, 2021). It is delivered live, over Zoom, using a workshop format.
Participants meet for 90 minutes each week over a 6-week period.
3. When does the series start?
Cohort #4 launches on January 25, 2024 at 5:00-6:30 pm EST (UTC-5). The remaining sessions are scheduled for the same time on the following dates:
February 1, 2024
February 8, 2024
February 15, 2024
February 22, 2024
February 39, 2024
Registration deadline is midnight, January 20, 2024.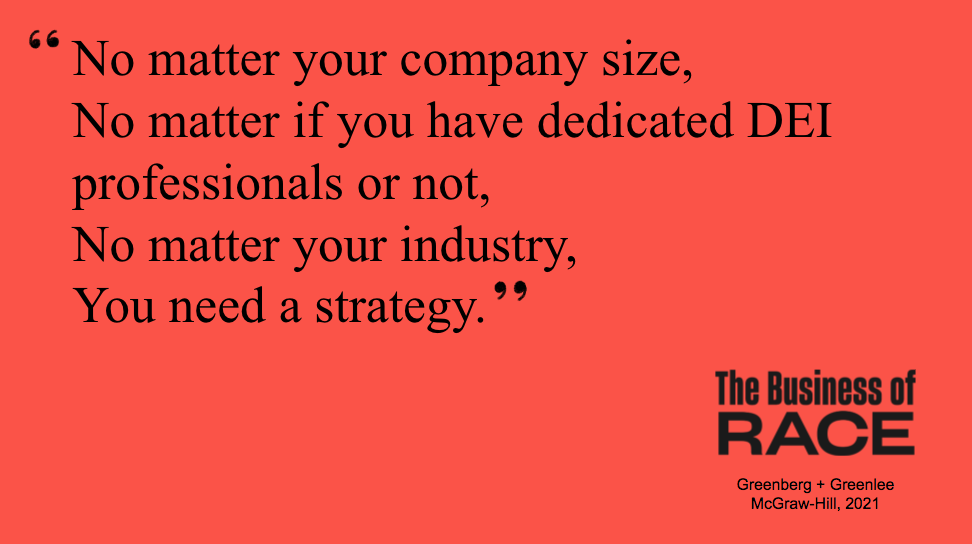 4. How is this experience different from other DEI courses taught online?
Embedding Racial Equity into Your Business Strategy is led not by two DEI experts. Rather, by two business professionals with deep backgrounds in OD (Organizational Development). Gina Greenlee who is Black and Margaret H. Greenberg, who is White are the coauthors of The Business of Race: How to Create and Sustain and Antiracist Workplace AND Why It's Actually Good for Business (McGraw-Hill, 2021). The Business of Race is also the only live, highly interactive experience that explores racial equity using a business and OD lens, not a social justice lens, and applies evidence-based tools from the science of positive psychology.
While there are other quality workshops, this experience is geared specifically for business leaders and focuses on the workplace. Why? Because that is where the creators/facilitators/ authors have spent their entire careers. Businesses also wield tremendous influence and are capable of leading another transformational change: advancing an antiracist society.
The Business of Race program is not self-study, not a book club, and not a MOOC (Massive Open Online Course). It is taught live, by the coauthors who engage with participants in deep conversations both during and after the training. Class size is limited to the first 12 registrants.
Learning doesn't end when the 6-session experience concludes. Upon completion of the series, participants become members of a growing, diverse network of professionals they can collaborate with. Once a quarter Greenberg and Greenlee host a free Learning Community where members can continue to grow and evolve as they do their own individual and organizational work. Members bring challenges, best practices, and current events that can be applied to businesses large and small.

5. How much does the 6-part series cost?
The fee is $899.USD which also includes a complimentary, digital copy of The Business of Race and membership in the ongoing quarterly Learning Community.
6. When is the deadline for registering?
Registration ends January 20, 2024 at 11:59 pm EDT (UTC-4) for Cohort #4.
7. I'm a busy professional. How much homework can I expect?
Estimate spending 1 to 2 hours of reading, reflection, and application homework each week.
8. Can I earn continuing education credits?
We are currently working on the rigorous process to become accredited by ATD, ICF, OD Network, and SHRM. The time from application to acceptance can be quite lengthy. We appreciate your patience.
9. What if I cannot commit to attending all 6 sessions due to vacation, work, or other commitments?
This experience is designed for busy professionals. While we hope you are able to attend the full series, we recognize that circumstances may prevent you from attending all six. Since the richness of the experience is in the dialogue between participants and the coauthors, we can only excuse one absence. As long as you complete the homework before the next session, you will still earn a certificate of completion. Since the series is not recorded for confidentiality and psychological safety reasons, you also have the option to join the next cohort's class that you missed.
10. What will I earn besides a certificate of completion?
Once you complete the the series you automatically earn membership in the Business of Race Learning Community. Since embedding racial equity into how a business fundamentally operates remains elusive for many organizations, we want the learning to continue long after the six-week sessions concludes.
11. I've already read the book, The Business of Race. What will I gain by participating in this program?
We are delighted that you've read The Business of Race. By engaging with the coauthors and other participants directly, you will:
Be better equipped to have challenging conversations with your leadership and other key partners.
Have additional tools, best practices, and ready-made materials to catalyze substantive, institutional changes in your organization.
Become a member of a diverse community of professionals you can rely upon for advice, collaboration, networking and business opportunities.
12. Can my organization hire Greenberg and Greenlee to deliver the program exclusively for its board, leadership team, learning and development staff, DEI committee, or as part of our leadership development curriculum?
Yes. If you wish to immerse in organizational practice your entire Learning & Development staff, a group of managers or employees, or your board, we can deliver the experience in-person at your organization's location or over a virtual platform of your choosing. The minimum number of participants is eight. Contact us at businessofrace@gmail.com to arrange a consultation.
13. What is your refund policy?
If WE cancel the the series for any reason, you will be refunded the full amount you paid. If YOU cancel your attendance for any reason up until 30 days before the start of the program you will be refunded the full amount you paid, minus the EventBrite processing fee. If less than 30 days notification is given you will be refunded 50% or you may apply your registration fee to the next offering of the series.
If you miss more than one session, no refund is available, however, you are invited to make-up the session(s) when the next cohort is offered.
We hope these FAQs provide enough information to know if the Embedding Racial Equity into Your Business Strategy series is a good fit for you. If you have additional questions, please reach out to us at businessofrace@gmail.com
We hope you will join us for this transformative experience.
Margaret H. Greenberg, MAPP, PCC and Gina Greenlee, M.Ed. Coauthors of The Business of Race (McGraw-Hill Professional, 2021)Website: The Business of Race (download your free chapter here)The Business of Race LinkedIn Page Office: +1 860-377-1212